At the Acorn Orchard just outside the Oak Atrium, you encounter young Nicoliaux, who asks for your coperation in playing a prank on some grown-ups - his favourite pastime. Travel to Humblehearth and slay aurora anglers to procure the eight blinking eyes he requires.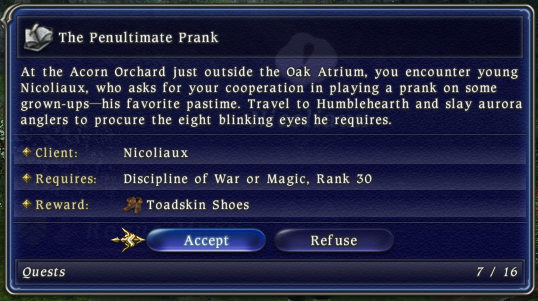 ¤ Talk to Nicoliaux
¤ Head to Humblehearth
¤ Collect Blinking Eyes x8
¤ Talk to Nicoliaux
-end-
Text in Blue is dialogue and may contain spoilers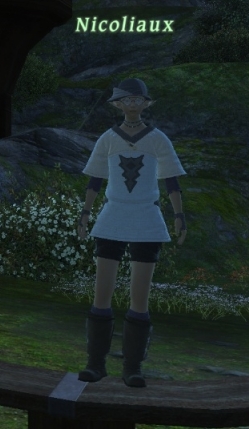 "You, adventurer. You look bored. Are you?"
Option: P!ss off, sprat
"Don't want to waste your precious time talking to younglings, is that it? Too high and mighty? Well excuuuse me, my lady. Whatever was I thinking? Snobby bleedin' adventurers!"
Option: I am now
"Good, then listen! I need your help to scare some grown-ups. They're such a silly bunch, always acting so brave and wise─but all it takes to send them screaming for the hills is a little creepy-crawly toy, orrr... A blinking eye! Ohhh, imagine if I had some blinking eyes. I'd really be able to get a rise out of the oldies! What do you say? Will you help me get some? You'd only need to kill aurora anglers near Humblehearth in the Twelveswood and bring me eight of their blinking eyes, alright? I knew you'd help! While you go and get the eyes, I'll be here, thinking of ways to show them to all the grown-ups!"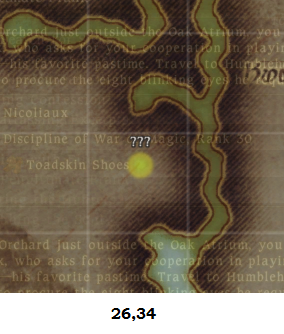 Head south from the western exit of Gridania and work your way down south tot he location on the map. Head into the cave with the Aurora Anglers.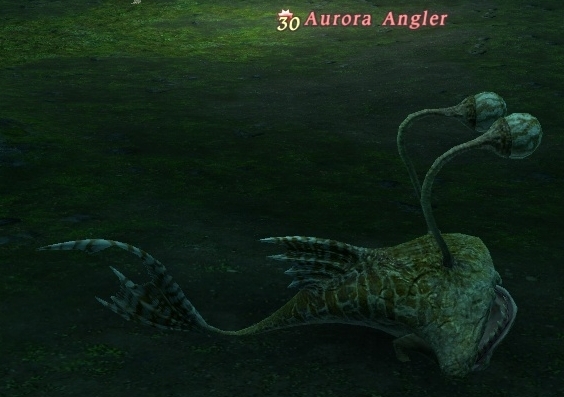 Rank: 30
Temperament: Aggressive
Element: Water
Weakness: Lightning
This cave is full of Anglers and they are aggressive so be careful about running straight in and getting mobbed by them all. Kill them until you have all 8 quest items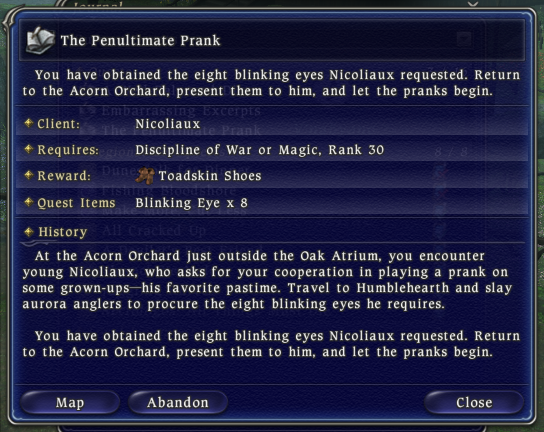 Return to behind the Carpenter's Guild and speak with Nicoliaux for the reward
"Oh my gods! Real blinking eyes! They're so much nastier than the fake ones I've made. Looking at these, I reckon I might be able to make a few grown-ups wet themselves! Thank you, thank you, thank you! I'm sorry, but I've only got this to give to you in return."
Nicoliaux takes out a dead bat...
"Hahaha! Scared you, didn't I!? How did I get a dead bat? Don't be stupid. I had another adventurer get it for me, of course. I just use whatever you adventurers bring me to scare the next adventurer that comes along. That way I always have something nasty on hand, and someone gullible to show it to, too! It's genius, really. But don't worry. I've got something for you for helping. Honest, this time. Oh, and send any other adventurers you bump into my way, alright?"
You obtain a pair of toadskin shoes.
"The Penultimate Prank" complete!
This page last modified 2011-07-17 23:27:11.