I've been working on a dataset for overclocking for this game for a while now, and I think I'm finally ready to share the results. I don't want to encourage inexperienced folks into overclocking, because there is a
very real chance that you can permanently damage your hardware
, but if you know and understand the risks, there are some major gains to be had. Not everything here is overclocking per se either, so I will also mention things you can do right off the bat to increase performance without causing harm to your computer.
I originally intended to show a nice big spreadsheet of the various CPU speeds and other tweaks and the resulting benchmarks I got, but it really isn't that interesting unless you're a dork like me, so I'll spare you the details. Instead I'll go over what I did, what the before and after is, and let you draw your own conclusions from that.
As far as overclocking goes, there is an abundance of guides out there. I found an entire forum dedicated to my processor, the humble Q9300 quad core offering from Intel. When I built my system, I specifically spent a ton ($350 was a ton at the time) for my motherboard just so I would have access to extra overclocking options. The extreme series of processors (read: unlocked multipliers) were going for over a grand, so I thought that with a motherboard like this one, I could do a bit more overclocking and still save cash.
Full systems specs are:
Motherboard
Processor
GPU x2
RAM x2
Case
My initial scores for the benchmark were:
Low: 3403
High: 2407
The most stable overclock I could achieve on the processor was 3.2Ghz. For some reason, even though my voltage and heat were quite low, I couldn't get any higher than this, even after upping the voltage and trying other things. Here is my CPUz reading: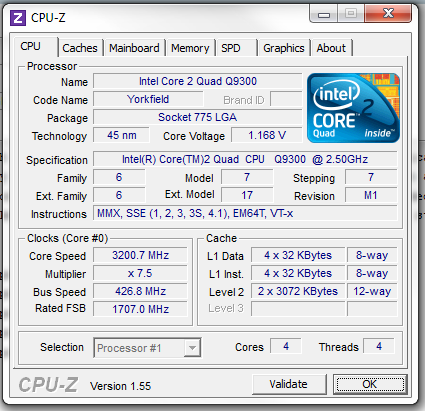 As far as overclocking the GPU, these are already superclocked, and run at 626Mhz out of the box. I was able to get almost 700Mhz without too many artifacts, but I decided to leave them at stock settings for now.
As far as things you can do without overclocking, I honestly believe these had a much greater effect on my overall scores than did the overclocking itself.
Disable Aero if you are on Vista/7. This is huge. See this thread for how to do it, desmar's explanation is spot on.
If you have dual GPU's, you can enable SLI by renaming the .exe file inside your Data folder to Crysis.exe. Note that when you do that, you will basically be unable to launch it from the FFXIVBenchmark.exe file, but you can still use that file to configure it. I would recommend copying the file and pasting it in the same folder so you would have two files, "FFXivWinBenchmark.exe" and "Copy of FFXivWinBenchmark.exe". Rename FFXivWinBenchmark.exe to Crysis.exe, and then if you don't want to use SLI anymore, just delete the Crysis.exe and remove the "Copy of" from the copied file.
The result of all this fuss and bother? Have a look:
Low Res: 3985
High Res: 3622
My conclusions:
Overclocking and the tweaks mentioned above seriously increases the high res benchmark score, in my case a 50% boost. The low res doesn't benefit as much from said tweaks (17% overall), but I noticed differences as I was overclocking the processor in that my scores were constantly going up on the low res, but staying about the same on the high res. This leads me to believe that the tweaks I mentioned, which help free up GPU resources in the case of the Aero tweak, and add more GPU resources in case of the SLI tweak, will be responsible for larger performance gains versus overclocking when the game is released.
Hopefully someone finds this useful, if you have any questions feel free to ask and I'll do my best to answer

Edited, Jul 23rd 2010 12:00pm by Wint