It's all done and ready to try out.
First and foremost, I want to stress that this is still a "beta" release, I've done what testing I can with the help of some others, but
there will probably be issues that need resolving when you use this.
That said, here are some steps you need to take before trying this out.
1.) Download and install .NET 3.5 framework. This is a code framework from Microsoft that makes .NET development in managed languages (like C# which is what this is written in) easier. This is required, there is no way around it. I used this version of the framework for the clock engine because I also wanted to be able to stick this in a Silverlight application to have online.
You can get the .NET 3.5 framework installer
here.
2.) Update your Logitech LCD manager software. My version is the latest, 3.03. If yours isn't, you may have issues. To do so:
Find the icon in your system tray.
Right click and go to Settings...
Click the "About" button on the right, if your version isn't 3.03, continue.
Click on the "Internet Updates" button on the right.
Click the "Check for Updates..." button.
If you made it this far, you're all set. Download the app from the link below. I am using my own host for this, so if traffic becomes too bad I will be forced to take it down.
Download Link:
http://renkeidorkz.com/files/LCDEorzeaClock.msi
Unzip the file to where ever you want (just make sure you can find it afterwards!

)
Double click on the .MSI

There are several screens to the installer, the only one important is this one: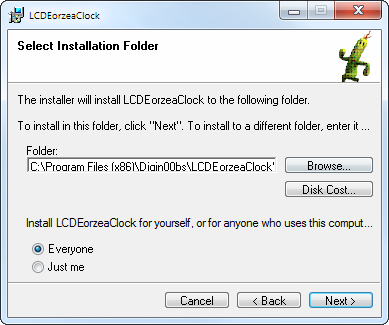 You can change the install path if you wish, but the default is fine.
If you want to uninstall the program at any time, just look for this icon in your Programs and Features (for Windows 7 and Vista) or Add/Remove Programs (for Windows XP):

The program shows up in your Programs menu, no subfolder, looking like this:

Go ahead and click on that to start the program. At this point, if it doesn't show up on your keyboard's display, you may need to change the app using the app switcher button on the keyboard.
For monochrome display users (G15 and older):
The first button (of the 4 under the display) shows the time in game and current. The second button shows the countdown timer.
Page 1:

Page2:

For color display users (G19):
The left button shows the time in game and current. The right button shows the countdown timer.
Page 1:




While the program is running, there will be an icon in your system tray:

Right clicking on this icon gives you what little control there is to the app. From here you can close it. You can also set it to start up when Windows starts:

That's it.
A few disclaimers:
Please be careful when installing any software on your computer. Zam is certainly not liable for anything you do, and I'm not either. This is use at your own risk in other words. That being said, the risk is minimal at best.
Please report any issues to this thread. I will do my best to help you out. I have an LCD simulator here, but it only does color or monochrome, it doesn't emulate the specific devices. After a certain period of time, if there are no more issues, I will release a stable version of this software. I will try to include neat features like automatic updating (so you don't have to download and install anything after the initial install), plus implement other features as we learn more about the game.
Thanks everyone and enjoy!
Edited, Sep 24th 2010 4:37pm by Wint
Edited, Oct 12th 2010 8:46pm by Wint Lock Thread: See here: http://ffxiv.zam.com/forum.html?game=268