For those feeling left out of the LCD App thread I created, now I have something for you

I've created a sidebar gadget, and we've confirmed it to be working in both Windows Vista and 7, 32 and 64 bit editions. To install:
Download it from here:
http://renkeidorkz.com/files/EorzeaClock.gadget
Also here:
http://gallery.live.com/LiveItemDetail.aspx?li=bb24a096-a210-4ea7-a9cc-07cecc1f1383
You will see this screen: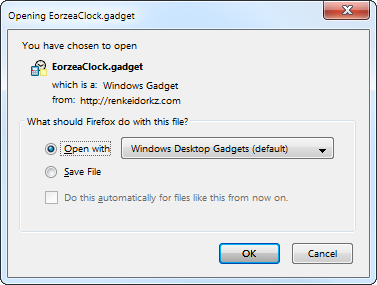 Make sure "Open With" is selected, and that Windows Desktop Gadgets is in the dropdown.
Click Ok. You will see this next: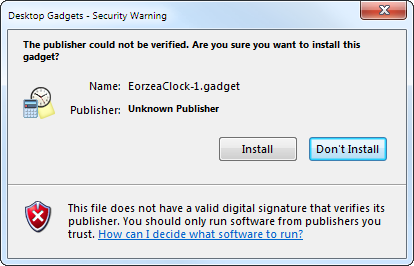 It looks scary, but it just says I'm an unknown publisher. You know me, and I'm a nice guy, so I think you're safe to download it

.
Click Install if you dare

You then should see this: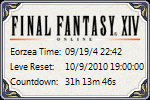 Upon clicking on this, a flyout page will appear that will give you more information: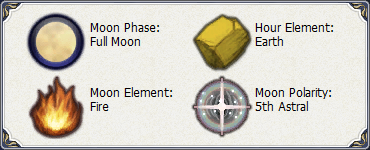 The whole thing:

Clicking on the wrench next to the close button will cause a settings menu to fly out, where you can change your background from the default to any of the starting cities. Try it out and see

If not, right click on your desktop, and go to Gadgets (Vista users, IIRC, you need to have the sidebar running first, and if the gadget doesn't show up there, right click on the side bar and look for an option related to adding a gadget)

The icon in the Add Gadget menu looks like this:

Questions, concerns, or bug reports can be made here, I will subscribe to this thread. Also, after we have more info, I will update this gadget accordingly, similarly to what I will be doing for the LCD application in my other thread.
Thanks and enjoy!
Updated:
Majivo made a nice change that lets you set your race and gender as another part of the background.
10/6/2010 - Now shows the next Regional Leve reset time and countdown.
10/7/2010 - Now shows moon phase.
10/8/2010 - Shrunk main window, added flyout with moon phase, moon and hour elements, and moon polarity.
Edited, Oct 8th 2010 12:02pm by Wint
Edited, Oct 12th 2010 8:46pm by Wint Lock Thread: http://ffxiv.zam.com/forum.html?game=268