Posted by request of Castiel of the RPC. Gad's always happy to help the RPC!
An envelope, pristine and elegant, arrives at your door. Glancing over the letter you notice that it was simply addressed to 'you' and that the envelope was sealed with candle wax, pressed with the seal of a noble from Ul'dah. Inside is a card..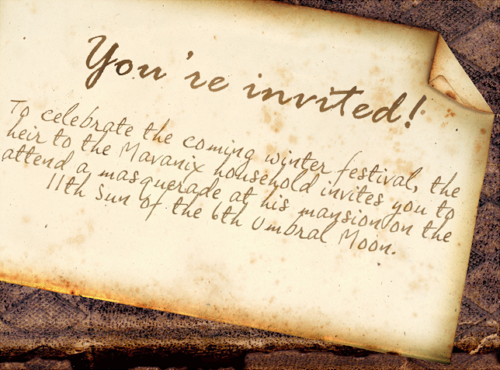 Flipping it over produced a few more details regarding the event but not much else. So far you've gathered: The party is being held on 11th Sun of the 6th Umbral Moon (December 11) at early evening (3 PM Eastern, 12 PM/Noon Pacific, 8 PM/20:00 London) and you are to dress nicely and wear a mask.
========
THE FULL COLD MOON
Besaid's first annual roleplayers' winter gala
When: 11 December @
3 PM Eastern
12 PM/Noon Pacific
8 PM/20:00 London
Where:
OOCLY> Milvaneth Sacrarium, between the Weaver's Guild Sunsilk Tapestries and The Mining Guild, Amajina & Sons Mineral Concern.
ICLY> A grand room in the Mavanix mansion.
Hosted by: Oria Argall and co-hosted by Sin Darius, if Sin cannot make the event then the beautiful and talented dancer, Remilia Levana will substitute in. Any questions and concerns should be directed to Oria.
Description: While disguised as a socalite masquerade it's really a gathering for people ranging in all castes to gather, socialize and potentially boost Mavanix's "good" reputation. Players will need to buy tickets in order to attend the event, 10 gil for a couple (2 tickets) or 20 for a single (1 ticket). Each player will be given a number which will get them a chance to win an item or money! You're strongly encouraged to purchase a ticket early to save Oria's player some headaches.
Purpose of event: There are new members in Mog House and people to the RPC who are having trouble breaking into RP so the event is more for people who want to meet others and make connections. Also, shameless excuse to experiment with a new way of working events.
Rules:
Be kind and courteous. Griefers and trollers will be immediately blacklisted and reported to a GM. IC troublemakers will be escorted out by guards, yes I just ruined all of your fun.
Please keep OOC limited in /say, or take it to whispers. Do not clog up the chat log, please. :(
Don't be a hermit and talk to just your linkshell buddies, cause I will come over there and break you up! Grr! Grr! This is a masquerade, you shouldn't recognize some folks!
Most important -- HAVE FUN.
===F.A.Q.===
Q. I don't have anything nice to wear! :(
A. Lazy, go find something nice to wear! Honestly, if you're having trouble getting gil and finding nice clothes, get in touch with me in the thread, in-game or by PM and I'll make an exception.
Q. Can I have some gil?
A. No.
Q. Define formal wear.
A. Formal wear can be anything from a nice shirt and top, dress or ceremonial armor. Try not to be.. too um.. raunchy looking. :) I might cut some slack for our pirate friends, but please do get in touch with me first before showing up looking like you just lost a bar fight. You must however wear a facial covering of some kind, either a helm with the visor down, a scarf or half-mask are acceptable.
Q. Why do I have to pay real gil to go to the event?
A. The gil made from tickets goes into the JACKPOT. Whoever wins, gets all the money. HOWEVER, if we have a large amount some of the gil will go to compensating the people who donated and guards for their time.
Q. But what if I don't win anything! You took my money!
A. THEY FOUND ME OUT. RUN AWAY! I can't guarantee you'll win, but it's a small amount for the ticket which can be easily made up -- on the sunny side, at least you had fun?
Q. If I donate an item or gil to the event, do I still have to pay for a ticket?
A. No and you will receive a free ticket so you'll be a part of the raffle and JACKPOT. However, I am limiting the number of people I'll accept donations from.
Q. Can I do something crazy like get really wasted and remove my pants?
A. Talk to me about it first and we'll see. :)
Q. How can I purchase a ticket?
A. Due to time constraints and arranging meetings to get this done ICly, it is assumed your player has already learned of the event through the invitation and the tickets arrived later through the mail. Once you've given your gil to me in-game (Oria), your name will be written down on a list and that list will be given to the guards so they'll know to let you pass through.
Q. I don't trust you..
A. Neither do I! Don't worry, the gil both earned and donated along with items will be kept separate from my things. I'll keep a list both physical and online to keep track of everything which will be made for public viewing. :)
===MASTER LIST===
JACKPOT: 532,200 Gil
DONATIONS:
Amalthea Ghoulheart (Items)
Ami Trubble (Items)
Sin Darius (Items)
Vale Hartstrong (Gil)
Magnus Vanguard (Gil)
Aki Sakata (Gil)
Nee Ninean (Items)
Ami Faye (Gil)
Erika Duvette (Items)
Keir Loell (Gil)
Satori Miroquette (Gil)
Mian Amaya (Gil)
COOKS:
Saya Kainda
GUARDS:
Endemerrin Rosethorne
Aki Sakata
D'vislian'l Tar'neil (Eternal Darkness)
Ami Faye
The Onion
Vertigo
Nira Muzyka