This guy is my hero. Actual SP testing and results in a easy to read table.
Kaeko wrote:
I have a table that I would still consider a work in progress, but is for the most part complete that maps out the reduction of SP for each party size and # of members in range -10/+5.
Party SP Table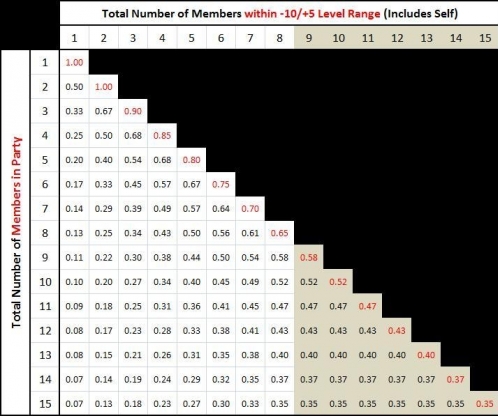 Kaeko wrote:
In the situation described earlier where someone mentioned having a group of 8 all in range, then adding a 9th in range, you should see roughly a 10-11% drop-off (from 65% to 58%, where 58/65~=89% of previous).
If you're interested in seeing how SP is actually calculated more precisely in game, here is my data collection and results:
Part I
http://kanican.livejournal.com/51730.html
Part II
http://kanican.livejournal.com/52445.html
Hope this helps.
Hats off sir. I hope you don't mind me putting this in its own thread so everyone can find it!
Edited, Feb 20th 2011 10:30pm by RufuSwho