Now that there is more lore in the game I was thinking it would be fun to share the tidbits of interesting lore that we've come across.
For instance, today I was fishing and I noticed that there was a "red star" beside the moon. I remarked to my LS about how creepy looking the red star looked.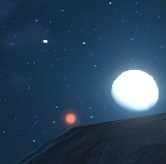 Anyway, so after doing some gathering leves, I ran up to Wineport to participate in the bomb event, and saw a couple of [!] so I went to talk to the npcs.
One of the NPCs then proceeded to tell me about the "red star"...

I'nairoh: When night falls and I can no longer work the vineyards, I oft gaze up at the moons and follow their celestial dance across the heavens.
I'nairoh: It is commonly held that the larger of the two is the embodiment of Menphina, the Lover. The legends surrounding the smaller moon vary, though. While there are some who believe it to be Menphina's daughter, others swear that it is her lantern. However, the most popular tale tells us the moon is actually Menphina's loyal hound, Dalamud, ever vigilant in his watch over the goddess.
I'nairoh: Grapes picked on the mornings when Dalamud's eyes shine brightest are said to produce the finest of wines, which is why many of us here in this hamlet rise before the ****'s call and check the skies before attending to the day's tasks.
I'nairoh: As for grapes picked when Dalamud appears a bloody red, like he has been of late... I regret to say that winemakers' lore tells us little and less of this phenomenon. Some few of my peers have been quick to point out the similarity between the color of wine and blood as auspicious, but I find myself struggling to adopt such a positive outlook.
I'nairoh: Never in all my years have I seen Dalamud in such an inflamed state, and it's all I can do to stay the dread that's welling up in my stomach. Ill change is afoot, my friend, and I fear it's something that will affect far more than the quality of wine. For now, though, I intend to keep these sentiments to myself and I ask that you do the same, lest panic engulf this quiet little community.Now, where were we? Ah, yes...

I just thought it was cool to notice something out there and then be told about it right after by the npc... It is little things like this which make the world seem more alive.