This is the patch notes for 1.19. Some information was not included (mainly tabled information) however there are notations where the "missing information" should have been instructing you to view the original post on the official forums if you choose to do so. The link immediately below this message will lead you to the official forums 1.19 patch note post.
Note from State Alchemist: The ZAM Database will reflect the 1.19 patch changes on or shortly after October 4th. (So please bear with an inconsistencies if you come across any immediately after patch. Also, if you notice something is inaccurate, or missing please remember top leave a comment on the page so that we can correct/fill in the information. Thanks everyone!)
> Official 1.19 Patch Notes Post Link <
[patch1.19] Patch 1.19 Notes

* The following changes and additions are planned for patch 1.19.
* All features are currently being tested, and are subject to change and postponement.
 The final version of the patch notes will be released when the patch goes live.
* Physical levels have been abolished.
In conjunction with this adjustment, the terms "(class) rank" and "skill points" have been changed to "(class) level" and "experience points" respectively.
Event
[dev1000] Interface tutorials have been added which cover the subjects listed below.
These tutorials will trigger for newly created characters at the conclusion of the opening event. Players may select tutorials tailored to their control scheme: gamepad & mouse, or keyboard & mouse.
Camera control
Character movement
Targeting
Main menu
Journal
Auto-attack
Weaponskills and TP
Casting
NPC linkpearls
* More tutorials are being planned for beyond 1.19.

[dev1016] Items required to complete the quest "Head of the Class" have been changed.
Players who have accepted but not completed this quest at the time of the patch will be allowed to submit the items originally requested by the quest client.
[dev1001][dev1002] Several new sidequests have been added.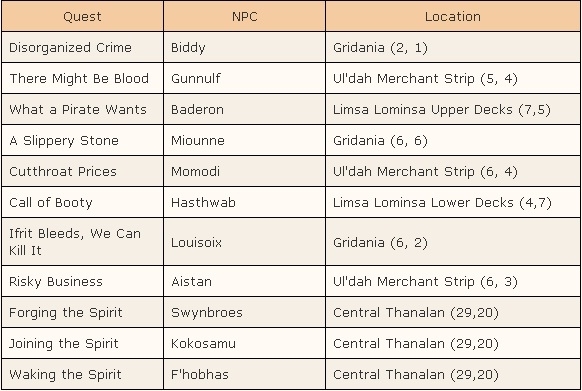 [dev1003] Several new Grand Company quests have been added.

This includes the following quests which allow players to pledge their allegiance to a single company, effectively moving them from recruit status into the official company ranks.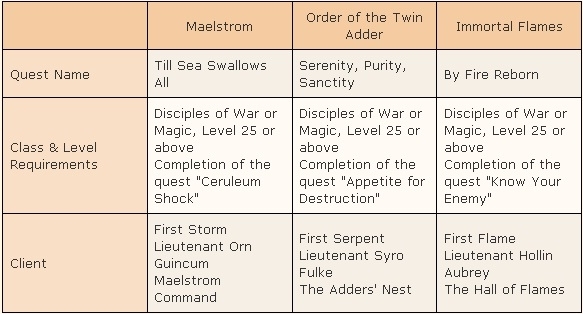 The requirements for unlocking the above official enlistment quests are as follows: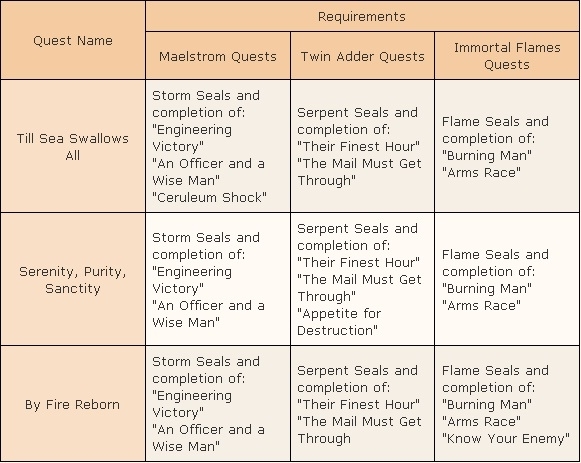 Once initiated into a Grand Company, players will earn the rank of Private Third Class. At this time, Private Third Class is the only rank available to adventurers. However, in the coming months, the opportunity to move up in a company's ranks will be made available. Upon pledging allegiance to a Grand Company, a new salute emote (/gcsalute) specific to that company will be unlocked.
* The text command is common for all Grand Companies.

Players may only pledge their allegiance to a single Grand Company. Once they have done so, players may not do the following:
Leave their current company or join another.
Accept another company's quests.
Use seals earned while a recruit of another company.
[dev1138] Company leves have been introduced.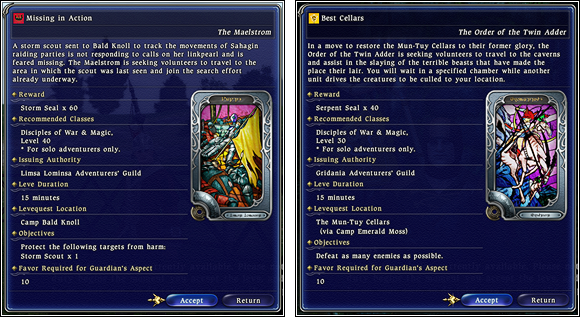 Rewards for company leves will consist primarily of company seals.
Company leves are not issued by the Adventurers' Guild, but by company officers stationed at the locations listed in the chart below. Company leves will be similar to Battlecraft Leves in nature, with the exception that they can be issued on location and commenced immediately. As with guildleves, accepting company leves will consume players' leve allowances.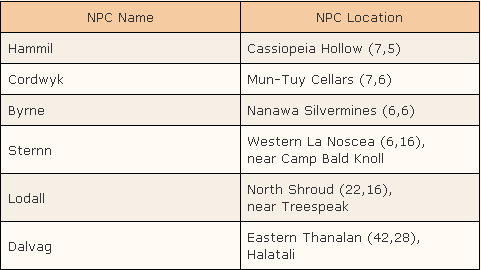 Company leves are all solo missions, and therefore cannot be linked or shared.
[dev1139] The following changes have been made to behest:
The following changes have been made to how players are allowed to participate in consecutive behest missions:
If the behest a player participates in is a success, then that player must wait two minutes from the start of recruitment for the next behest before being able to sign up. If the behest a player participates in fails, then that player must wait one minute from the start of recruitment for the next behest before being able to sign up.
The level of enemies has been adjusted as follows:
Enemy level will be the same as suggested level. However, the final group of enemies will be one level higher. If the party's mean level is higher than that suggested, enemy level will be raised accordingly.
In the case of light parties, enemy level will rise by 1.
In the case of full parties, enemy level will rise by 4.

* The increase in enemy level is limited to 9 above suggested level.
[dev1140] The following changes and additions will be made to Suppy & Provisioning Missions.
Supply and Provisioning missions are now available for those adventurers who have earned the Grand Company rank of Private Third Class or higher.
These missions are similar to the guild tasks offered by the Adventurers' Guild, but reward company seals. The total number of items requested in these missions differs between items and can be confirmed by speaking with the mission officers stationed in Grand Company headquarters. In the event that the quota for a particular item is filled, players may find a new item added to the list.

An explanation mark will no longer appear over the head of NPCs offering guild tasks.
[dev1141] The following changes have been made to instanced raids:
Party size regulations have been adjusted.

* Instanced raid battle balance has not been adjusted.
When players within an instanced raid are forced to log out due to a lost connection, they will now respawn near their party members upon logging back in.
(Only if one or more party members remain in the instanced area.)
[dev1080] Two new battles with the primal Ifrit have been added.
Players that have completed the proper introductory quests will be granted access to an instanced area known as the Bowl of Embers where they can engage in epic battles with the Lord of the Inferno. Ifrit battles are party-based and feature rare weapons and armor as rewards.
Those who defeat Ifrit in a party formed exclusively of members from their own Grand Company will earn greater rewards.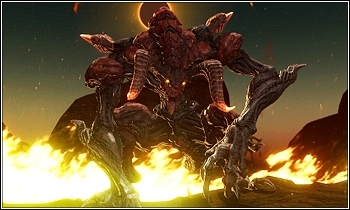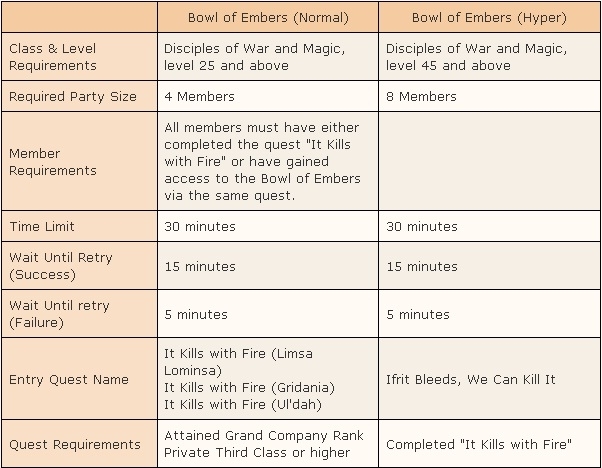 * "Ifrit Bleeds, We Can Kill It" is a repeatable quest.
Furthermore, players in possession of the quest item "Inferno Lamp" are eligible for greater rewards for defeating Ifrit in the Bowl of Embers (Hard).
[dev1137] Caravan security missions have been introduced.
Caravan security is battle-related content available to Grand Company members who have achieved the rank of Private Third Class or higher. Security involves escorting three pack chocbos from one location to another, fending off any creatures or bandits who try and harm the birds and steal their cargo. Chocobo security duty is repeatable and rewards company seals upon successful completion. Caravan security duty can be undertaken by speaking to company NPCs stationed in the following aetheryte camps: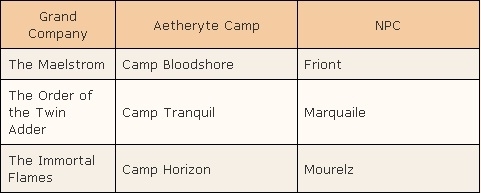 <Details>
Fend off all enemies that attempt to assault the caravan. Rewards are calculated by the total number of cargo packs remaining when the caravan reaches its final destination. No reward will be granted if the caravan fails to arrive on time.
The caravan will stop when under assault, and resume its progress only after all nearby threats have been eliminated.
If a chocobo incurs too much damage, it will bolt, causing it to lose one of its packs.
Security duty can be abandoned at any time, forefeiting all rewards.
<How to Participate>
Speak to the NPC representing your Grand Company posted at one of the aetheryte camps listed above to sign up. The chocobos will squawk and the NPC will perform a salute to signal that recruitment is open.
Make your way to the caravan on standby near camp. The NPC will apprise you of its exact location. Alternately, you may also refer to your minimap.
After a short while, the caravan will begin its march, and your duty will commence. The time till commencement is shortened in the event that all escort places are filled.
March with the caravan, all the while staying on constant guard for enemies. Enemies will set upon the caravan from various directions and from positions of ambush. There is no telling when they will strike. To better defend the caravan, players are urge to form strategies and define roles ahead of time.
The caravan will halt its march should enemies come near. Swiftly dispatch all threats to the caravan and ensure that the chocobos do not come to harm.
Enemies will attempt to attack chocobos rather than their escorts. Chocobos that incur too much damage will flee from the caravan.
Players can coax chocobos back to the caravan by talking to and healing them. Giving chocobos their favorite food is an effective way to recover their health.
During escort duty, a display that shows information such as distance to destination, chocobo health, and remaining time will appear. Be sure to keep a close eye on these details.
Your duty will end in failure if time runs out. It is recommended that players keep their chocobos in sound health, as retrieving a spooked bird consumes a considerable amount of time.
Chocobos will drop a pack of cargo each time they flee. Lost cargo will lead to reduced rewards, so do all you can to prevent the chocobos from fleeing.
Your duty will be deemed a success if the caravan arrive at its destination on time. However, rewards are issued even in the event of failure. Speak to the NPC to receive a reward commensurate with your performance.
[dev1142] Locked treasure chests can now be found in the following areas:
Shposhae
U'Ghamaro Mines
Zahar'ak
These chests can only be opened if a player possesses the proper key.
Keys can only be used once, but chests will be refilled after every emptying. Keys can be obtained in several different ways, such as by defeating enemies or fulfilling certain objectives on quests. Only one type of each key can be carried at a time. Treasure chest content varies by lock type, with chests locked using rare keys often containing the best loot.
[dev1143] A new non-instanced dungeon geared for low-level players has been added.


Players who go to Shposhae for the quest "Call of Booty" will experience an event. However, the quest is not a requirement for entering the dungeon.
[dev1028][dev1136] Three new beast tribe strongholds have been added.
These strongholds are situated in strategic locations in existing areas and are fortified with heavy gates which require the slaying of gatekeepers to open. Notorious monsters are said to lurk deep within the hearts of these strongholds.


Players who go to either the U'Ghamaro Mines or Zahar'ak for the quests "Kobold and the Beautiful" and "When Alchemists Cry" respectively will experience an event. However, the quests are not requirements for entering the dungeons.
[dev1082] Airship transport between the three city-states of Limsa Lominsa, Ul'dah, and Gridania is now available.
Airship transport is a convenient, low-cost alternative to anima-based transportation.
Airships can be accessed via airship landings found in the following locations:

<Landings>
Via the Crow's Lift on both upper and lower deck (7,5). Select airship landing when prompted.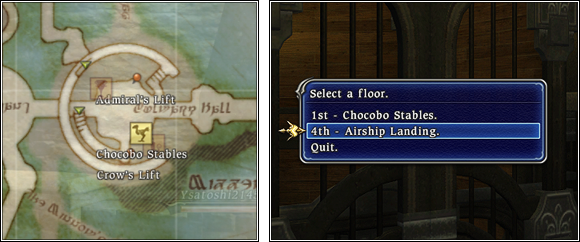 Adventurers' Guild (6,6)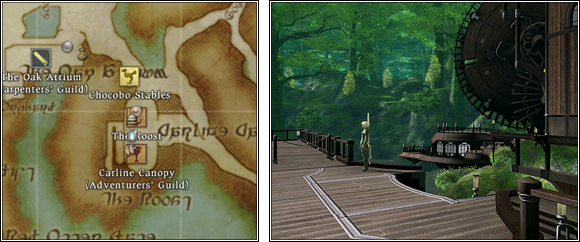 Via the Wellhead Lift on either the Merchant or Hustings Strip (6,4). Select airship landing when prompted.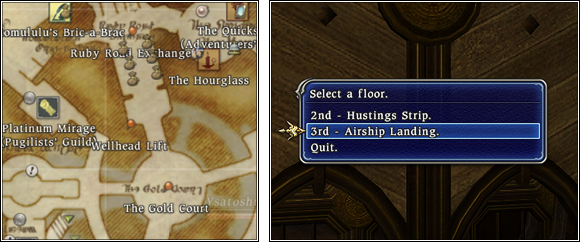 <Fee>
Airship fees are based on a player's highest class level.

[dev1082] Both rental and personal chocobos have been introduced. While both allow for movement considerably faster than walking, personal chocobos are faster than their rental counterparts.
Personal Chocobos
Obtaining a Personal Chocobo
Players who meet the following conditions will receive their very own chocobos which can be called at any time:
1. Have pledged sole allegiance to one of the three Grand Companies and attained the rank of Private Third Class.
2. Have purchased a chocobo issuance from a Grand Company quartermaster for 3,000 company seals.

3. Have presented the issuance to the chocobo stablemaster located in the city-state of your allegiance and received a chocobo whistle.
Isleen - Limsa Lominsa Lower Decks (7,5)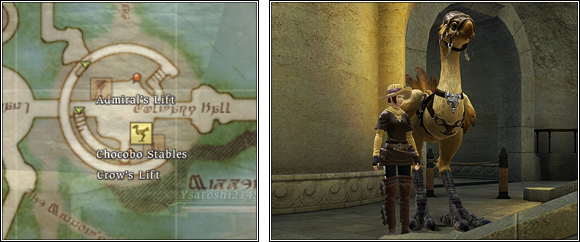 Fruhdhem - Gridania (6,5)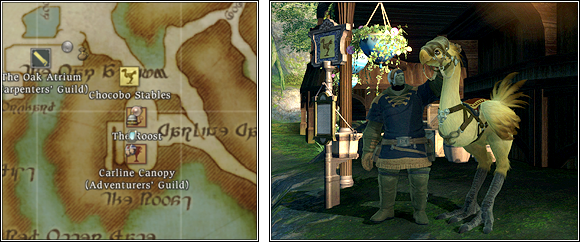 Rururaji - Ul'dah Merchant Strip (6,3)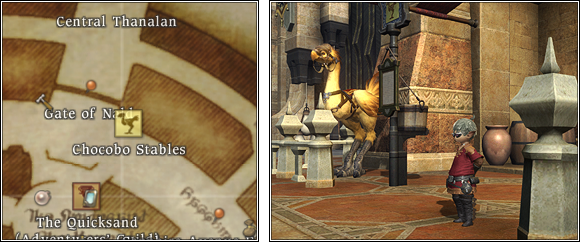 Players will be granted the opportunity to name their new chocobo.
* Please note that all chocobos issued by the Grand Companies are male, and will be referred to as such by NPCs, even if given names such as Sparkles, Misty, Honeydew, and Femalechocbo. (Names will have a 12-character limit.)
Summoning a Personal Chocobo
After obtaining a whistle from the stablemaster, players can click on the chocobo icon located in the micro menu

*

to summon their chocobo.


* The default location of the micro menu is in the lower right-hand corner of the screen.

Chocobos cannot be summoned at the following times:
While a player is within city walls
While a player is engaged by an enemy
* The chocobo whistle has no recast timer.
Rental Chocobos
Chocobos can be rented by speaking to the following NPCs.
Isleen - Limsa Lominsa Lower Decks (7,5)
Fruhdhem - Gridania (6,5)
Rururaji - Ul'dah Merchant Strip (6,3)
After paying the fee, players will be placed on chocoback and transported outside the city gates.
Once outside, players can control their rental steeds as they would their PCs, using the movement keys on their keyboard or the analog stick on their gamepad.

Riding
<Both Personal and Rental Chocobos>
Players will be detected by enemies as they would if they were on foot.
If attacked while on chocoback, players will sustain less damage than they would if on foot.
If attacked from behind while on chocoback, there is a chance that the blow will cause a player's chocobo to lose speed.
If a chocobo takes too much damage, he will buck his rider and escape back to his stables.
Players can dismount their chocobos at any time by clicking on the chocobo icon located in the micro menu.
The following actions cannot be executed while on chocoback:
attacks, class actions, magic casting, gathering, synthesis, item repairs, item usage, speaking with NPCs, attuning to aetheryte
There are some locations into which a chocobo will refuse to enter, such as city-states and dungeons.
<Rental Chocobos>
The rental contract is nullified the moment a player dismounts, regardless of how much time is left on the agreement.
Once the rental period has expired, the chocobo will buck his rider and return to his stables.
[dev1134] The following changes and additions have been made to guildleves:
The manner of accepting levequests has changed significantly. Every 12 hours (Earth time) players will earn four "leve allowances" (up to a maximum of 99) which can be exchanged for guildleves at Adventurers' Guilds. After patch 1.19 is implemented, players can receive their initial allocation of 8 leves by visiting the Adventurers' Guild, after which time their leve allowance will accumulate at the abovementioned rate.
* Leve allowances are required to accept all types of leves, including regional, local, faction, and the newly added company leves.
* While players can stock up to 99 leve allowances, they may still only accept 8 local and 8 regional levequests at any one time.
Leve list updates will now occur at the following times:
When players are granted additional leve allowances.
When players complete a levequest.
When players fail a levequest.
The list of available leves is updated upon the completion of previously issued leves.
Guildleve exchanging has been abolished.
Bonuses granted from leve exchange will be phased out, to be replaced by a new "leve history evaluation" system scheduled for patch 1.19a.

* Players will still be able to return unwanted guildleves to the Adventurers' Guild if they have reached the 8-leve limit.
The level of enemies appearing in regional levequests has been adjusted.
Enemy level will be the same as suggested level if Solo (Difficulty: ☆) is selected, and will rise in increments of three for each increase in difficulty.
A Levequest History page has been added to player journals.
When players complete a levequest and collect their reward, the quest will be removed from the leve list and added to Levequest History.

* Only the most recent 8 leves will be listed.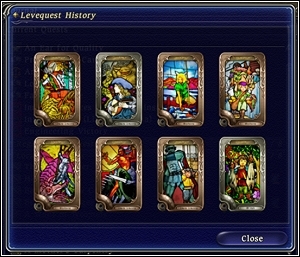 Failed levequests can be reattemped for the cost of one leve allowance. A reattempt can be carried out from a player's journal.
An "abandon" option has been added to levequest details found in player journals. Levequests can now be abandoned at any time, regardless of completion status.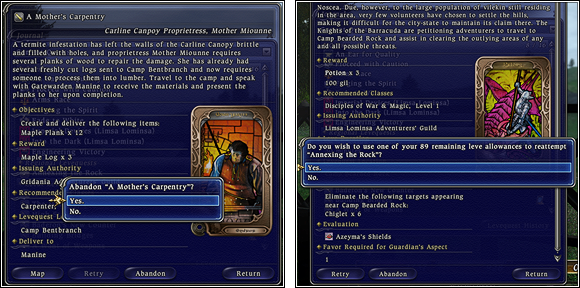 In conjunction with the recipe overhaul (mentioned later in these notes), the requested items and promised rewards for several local levequests have been adjusted.
* As a result of the aforementioned change, players may find some levequests accepted before the patch impossible to complete after the patch goes live. Please abandon or return these quests.
The fishing spot for the local levequest "Fishing Black Brush" has been changed.
Gear accepted for exchange can now be directly obtained from treasure chests for the following faction leves:
Operation: Pulling Fangs
Operation: Shuteye
Wanted: Mammoth and Master
Edited, Sep 30th 2011 3:17pm by StateAlchemist