Redirected from (
Crafting in Final Fantasy XIV
).
In the past, crafting has traditionally been looked upon as a side hobby for gamers and adventurers, something that you can do on the side while taking a break from slaying monsters and completing quests. The art of crafting has drawn a lot of players deep into specific trades, leading to fascinating guides and discussions on the matter.
In Final Fantasy XIV, Square Enix has paid the ultimate homage to the dedication of past crafters by making these trade professions official playable classes in Hydaelyn. These classes are part of the Armoury System and are considered to be Disciples of the Hand.
As of launch, there will be eight playable DoH classes. Cities are hosts for certain guilds and this may have an effect on what starting city you choose for your character.
A Carpenter uses a saw as his primary tool.
Becoming a Disciple of the Hand is as simple as putting the appropriate tool into the hand of your character. To equip a tool, open the Main Menu and go to Attributes & Gear.
Each class has a primary tool and a secondary tool, which assist you with different types of tasks associated with your craft. While you can choose to use either your primary or secondary tool with a recipe, better results occur when you use the more appropriate tool. For instance, when making Hempen Yarn, you could use a Rusty Needle, but your results would improve greatly were you to use a Maple Spinning Wheel instead.
If you choose a Disciple of the Hand class upon creating your character, you will of course, automatically receive a starting tool. However, if you wish to branch out, vendors in the cities sell all the starting tools you need. While it's unclear exactly what effects the higher ranking tools have on syntheses, one can assume that a better quality tool will help create a better quality product, especially one requiring a higher rank to successfully create something.
A plethora of raw materials from adventuring.
Raw materials used in crafting can be obtained in several ways, including sales from vendors, drops from monsters, other players, the market ward retainers, and from the gathering classes known as Disciples of the Land.
Adventuring and gathering at the same time is a great way to stock up on a wide variety of raw materials. Meats and pelts drop from animal kills while fruits and vegetables are obtained through logging and harvesting as a Botanist. Fish and shellfish are obtained by Fishers and metal ores, rocks, and raw gems obtained by Miners. While an efficient and money-saving way to level your craft, this is time consuming and it is oftentimes more efficient for a crafter to purchase goods from the local community of players selling their wares.
There is currently no Auction House in the game to purchase goods from other players, so the market wards remain your best bet for obtaining items from the player-driven economy. Square Enix has stated that an Auction House is planned for a later update of the game.
Local levequests are guildleves for the DoH classes and crafting materials are provided for you to complete the leve objectives. This will be explained in further detail below.
Higher quality versions of items are available, notated by a '+1' or '+2' suffix, will provide you with a heavily boosted Quality rating at the start of your synthesis. According to the game's dev team, this does not have any bearing on the difficulty of the synthesis, but greatly assists in your ability to create a high quality product.
The Carpenters' Guild offers a variety of relevant training books.
The guilds for Disciple of the Hand classes sell books and abilities relevant to their guild's skills. The books contain training instructions for various tasks performed within the class and while the training is optional, it certainly helps with your success rates.
NPCs that offer training books and abilities:
| | | |
| --- | --- | --- |
| Gridania | Limsa Lominsa | Ul'dah |
| | | |
Although recipes sometimes state a "Required Training", the training is actually not required, but optional. Still, there is no doubt the training will greatly assist you in your crafts. Training can only be purchased with Guild Marks.
The ZAM database currently contains over 3000 recipes for Disciples of the Hand to practice their crafts with. Many of them are missing shard, rank, tool, and training information. If you have something to add to a recipe in the database, please comment on the recipe page with a correction.
It is worth noting that there is no need to purchase recipes in Eorzea. With the right tool, ingredients, and the required amount of skill, you are able to do any of the recipes in the game.
There are several scores mentioned on armor and tools that control the quality of your creations.
Craftsmanship: It is thought that a higher value of this score will increase the quality per synthesis, while reducing the durability lost and failure rate.
Mag. Craftsmanship: It is thought that a higher value of this score will increase the effectiveness of "touch up", leading to more magical items (+1, +2, ..).
Control: It is thought that this value assists in modifying the stability of a synthesis.
Gathering: A higher value of this will increase the "sweet spot" of hitting the correct location while gathering.
Output: A higher value of this will increase the quality of gathering skills (Mining, Botany, Fishing).
Crafting as it is now can be frustrating, due to a lot of steps required to actually begin a synthesis. Making sure you have the right tool equipped, open your main menu and go to Synthesize.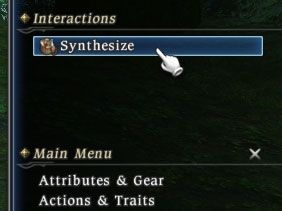 Once you have begun to Synthesize, your character will drop down to one knee to await further commands. The crafting box will pop up and prompt you for materials. Select one of the empty boxes to place materials in.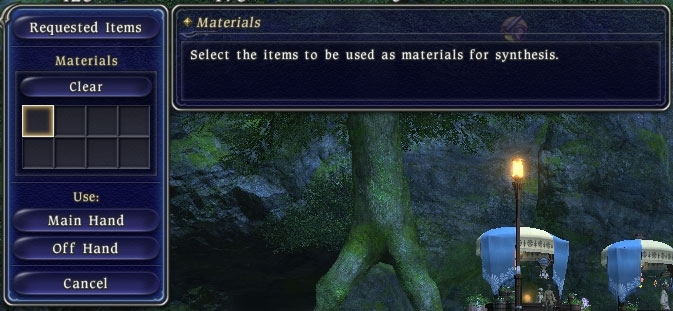 If you choose an item that is stacked, you'll need to select how many of the item you will be using in the recipe. While you can select multiple items of the same type, they will split into single items in your crafting box once you put them in. You can place a maximum of 8 items in the crafting box, excluding shards and crystals.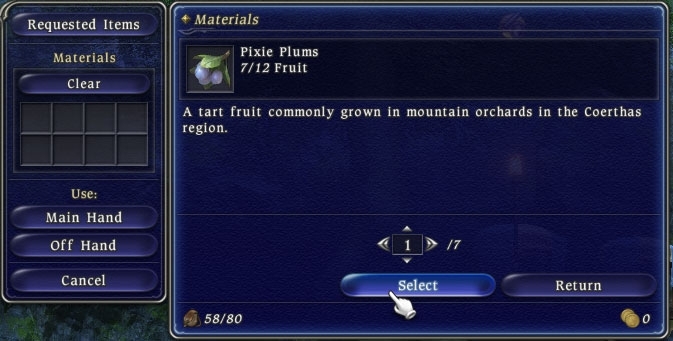 Once all of your materials are in the crafting box, you'll need to select which tool you will be using, primary or secondary. If you are not sure, try to guess based on what you are crafting and what tool would make more sense for it. While both tools will work if you are the appropriate class for the recipe, they will produce different results. Some tools produce more high quality items while others will produce higher quantities of items.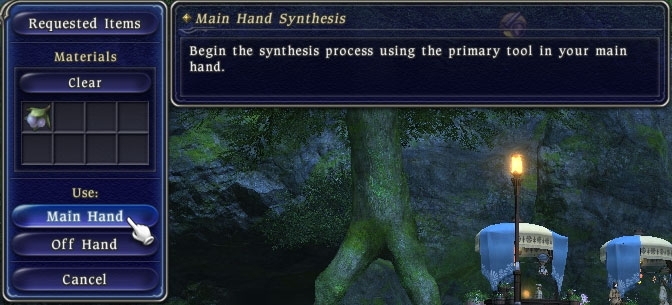 With crafting in FFXIV, the same materials can produce different results, which is why you will next be asked to select the recipe you wish to use. If only one option is available, select it.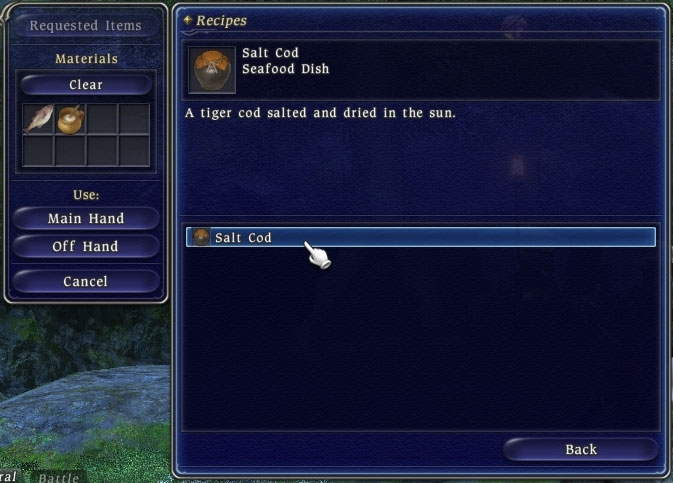 Next, confirm your recipe.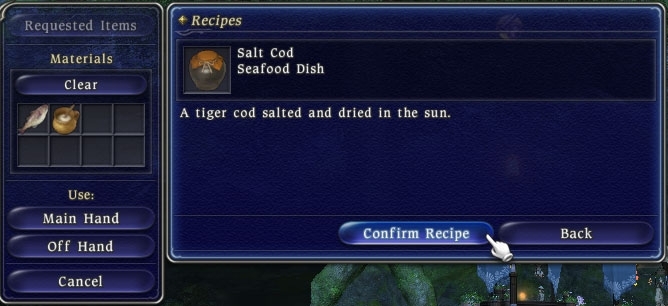 A box will appear telling you how many of the finished product the recipe will yield, how many shards the recipe requires, and how many you have in your backpack (circled in red). Hit Select.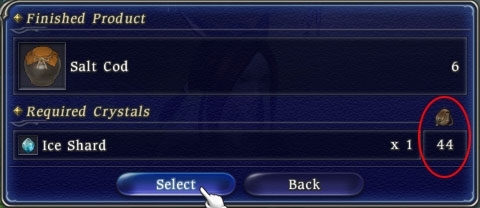 Your crafting process will now begin. You will see a timer begin to go down immediately and four options to choose from: Standard, Rapid, Bold, and Wait. You will see a number (circled in red) representing your item's Durability. If your Durability reaches 0 and you have not completed the item's Progress (100%), then you will botch the synthesis. In fact, even if you reach 100% and your Durability reaches 0, you will botch the synthesis.
You will also see a number (circled in green) representing your item's Quality. The higher this number is, the better quality product you will end up with. This affects the assessment when doing a local levequest. If the timer runs out and you have not chosen an option, a small explosion will occur in your synthesis and your Durability will decrease slightly. Each subsequent occasion in which your timer runs out, you will lose a higher amount of Durability.
A Standard Synthesis is a normal method of crafting and a good starting point for a synthesis, though it depends on your starting Durability and Quality. A Rapid Synthesis is a method of crafting that focuses on Progress. It is very useful for when your Durability is getting low and little progress has been made.

A Bold Synthesis is a method of crafting that focuses on Quality. When your product is nearing completion and Durability is still at a reasonable level, a Bold Synthesis, when successful, can boost your Quality by a great amount, giving you a good quality product.

The Wait function is available for when your synthesis becomes unstable, which you can tell by the color of your glowing orb or by sparks flying out of your product. This command will allow you simply wait and let your synthesis stabilize without losing a lot of Durability (1 with your first Wait), though the amount you lose increases with each consecutive wait. It can sometimes take five Waits to stabilize your synthesis.
A white glow indicates a stable synthesis, with a high chance of success when doing any of the three types. A colored glow is an indication that your synthesis has become unstable and the Wait command may be a good idea. Synthesis actions carried out during a red glow will have lower chances of success, but will yield greater boosts in Quality.
The durability cost of Wait resets any time you use a different action. If you use Wait three times and then use Standard/Rapid/Bold Synthesis, the next time you use Wait it will be back down to 1 Durability cost.

When your item's progress reaches 100%, you will need to Finish the item. You will be able to see your item's remaining Durability, Quality, and the Quantity that you've produced.

With equippable items, in addition to the Finish option, you will have the option to 'Touch Up' your item. Provided you are confident in the amount of Durability you have remaining, you can further improve the Quality of your item by touching it up. It should be noted that if you exhaust your Durability with a touch up, you will botch your synthesis.
During synthesis, the light of your synthesis will change color or begin to act in different ways depending on how well your synthesis is going. When you don't appear to be doing well, your synthesis will begin to emit sparks and begin crackling. At this point, it becomes likely that it will become unstable and you will need to wait or change your course of action.
Certain recipes have a 'Recommended Facility' suggested. These facilities can be accessed at Camps or at Guilds. Synthing a recipe without the recommended facility will result in your synth becoming much more difficult. Guilds will house three different types of facilities:
The Camp facilities currently only offer Common. Also, no recipe at present requires Master level support.
Sometimes while synthing, an element can become "destabilized" when you fail an attempt to advance your synth. This can have a varied effect based on what element becomes unstable.
Lightning: Progress greatly reduced.
Wind: Durability consumption greatly increased.
Fire: Quality greatly reduced.
Ice: Progress reduced, chance of aetherial sparks reduced.
Earth: Durability consumption increased, chance of aetherial sparks increased.
Water: Quality reduced, chance of aetherial sparks increased.
In order to counter destabilization, you can attempt the "Wait" option, or try to stabilize it with successful synth attempts. There is a chance that failure during an unstable element can cause that element to go "chaotic", significantly reducing your durability and cutting your quality in half.
Local Levequests are available from the Adventurer's Guild in your city and provide materials for you to create certain items for NPC characters from the town or surrounding areas. After accepting a Local Levequest, you would then go to the Synthesize option as normal, but instead of placing items into the crafting box, you'd select the option 'Requested Items'.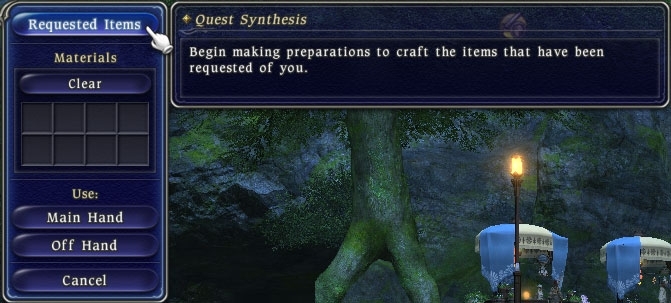 Selecting Requested Items will bring up your Local Levequest Journal and you will then be able to select from a list of your available local levequests.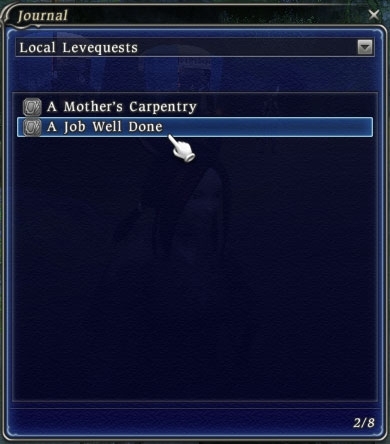 After selecting a local levequest, check to see if the recommended rank is a good match for your current rank. Once you are sure about the leve you will do, select Commence. The leve details will show you your current Progress.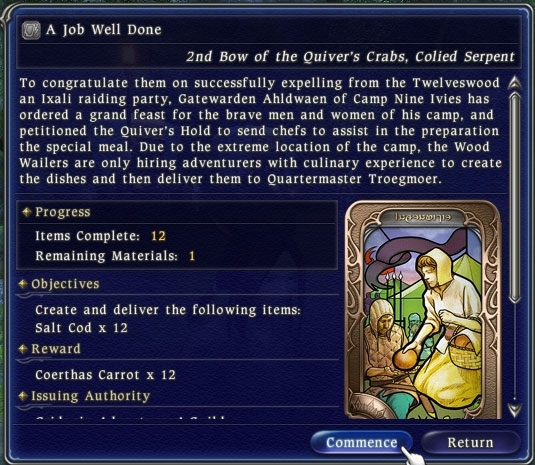 Once you finish all the items, you will be notified that you can now go and turn in your items to the NPC specified in the levequest information.

Usually, they will provide you with more materials than needed in case you botch a synthesis, but if you are successful in completing all of the items, you can gain more class points by using up the remaining materials. Using up the additional materials will also gain you more evaluation points and turning in more than the minimum amount of items will net you greater quality rewards and bonus gil.
Guild Marks are points granted by each particular crafting guild that can be used in the form of currency to purchase training books and other class abilities. Guild Marks can be obtained through local levequests Rank 15 and up and through class quests. Since all training books cost 5,000 Guild Marks, it's a good idea to get through the local levequests in order to begin earning Marks, rather than ranking up solely by your own syntheses.
This page last modified 2012-01-22 23:21:15.