A class guide by
Wint Aru
Bait and Rods
In the beta, there isn't much available by way of rods. The Weathered Fishing Rod is good enough for now. Trade "weapons" include a rank in their description and I can only assume that higher ranked rods help you hook your fish while also helping keep the fish on longer while you try to tire it out.
A wide variety of bait is available with each being either consumable (worms, etc) and reusable (lures and jigs). In the beta, I had my best luck with plain old Lugworms. I also had decent luck with a Floating Minnow. I did NOT have good luck with a Chocobo Fly, no matter what depth I chose. To me, a fly is for river fishing, so I don't know if that was my problem (I spent all my time fishing in the sea off of Camp Bearded Rock).
Bait is relatively cheap, and you only lose your consumable bait if you hook the fish, so feel free to experiment. To equip bait, simply selected it from the Attributes & Gear menu, and hit enter to add it to your Pack. Or, if you wish to macro it, you can type /equip pack "BaitNameHere".
Fishing in FFXIV is essentially a hot and cold game, as are all of the Disciple of Land classes. There are three parts to the mini game: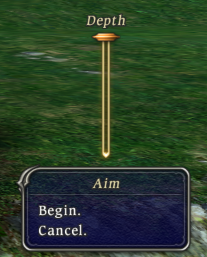 Begin Fishing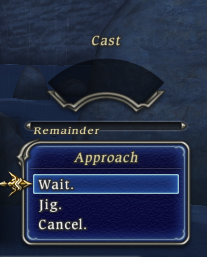 Initial Hook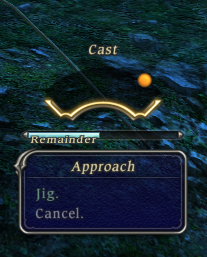 The Fight
I think where most people have trouble is the actual hooking of the fish. You may or may not get a bite every cast, and the trick is figuring out how to hook the fish you have nibbling at your bait. I have some ideas on how this works and I will explain what my theory is, but I would like to point out that this is pure speculation on my part. I started to keep a log of my hook rate, but I don't have enough data to conclusively prove anything yet. That being said, I think it is a good theory, and hopefully if other people try it and report their results, we can come up with a conclusive method that works for most.
There are effectively two actions you can perform once you start fishing: Wait or Jig.
Waiting after you get an initial bite will cause you to wait for another bite. I never do this, as I think I only ever got one hooked when waiting after the first bite. Your results may vary.
Jig causes your character to move their rod in such a way as to try to either hook the fish (if you don't have one on the line) or to try to weaken the fish in order to reel it in.
My normal pattern of fishing is:
Set Depth >> Wait for bite >> Jig to Hook >> Jig to Weaken Until Caught.
There are various messages you get while jigging once you have the fish hooked that I will go into detail about later on.
My observations while fishing have lead me to believe that there are two sweet spots that you should jig on in order to maximize your chances. In order to explain the sweet spots, I need to first explain how jigging works. When you select Jig, a meter is displayed with a colored dot that moves back and forth.
| | | | |
| --- | --- | --- | --- |
| The Fishing Meter | Meter while moving | Meter with jig selected | Selecting next jig |
It is your job to stop the dot in order to determine if you hook the fish (or weaken it if you have one hooked). I believe there are Zones to the meter, probably 5 but possibly 3.
| | |
| --- | --- |
| 3 Zones | 5 Zones |
The goal of jigging changes when you are trying to hook a fish versus when you are trying to weaken it. I will explain both next.
Hooking the fish involves stopping the meter in what I think of as the "Sweet Spot".

Red indicates the sweet spots.
Here is where we delve into speculation. I believe that in order to hook a fish, you need to stop the dot near to some predetermined point on the meter. Think of a cone that is where you need to stop the dot (what I refer to as the "Hook Point" below). If you do it correctly, the fish is hooked. Otherwise, you miss the fish. Furthermore, if you try on one of the sweet spots and it doesn't hook a fish, immediately try the sweet spot on the other side. A great majority of the time you will hook the fish on the second time around.
It is my theory that the cone where you should set your hook point for the fish is actually quite wide, say maybe 1/4 to 1/3 of the meter. So the two sweet spots are really the best way of ensuring you get the fish on either the first or second nibble. Of all of the casts where I missed my first attempt at hooking the fish, if I were to try the sweet spot on the other side it seems that almost always I would then hook the fish. Again, without hard data it's just a gut feeling, but I still think this is a good theory.
Now that you have it hooked, what do you do? Well now the game starts the hot and cold part. Your job now is to pick a point on one side or the other of the point where you selected to hook the fish and see if you weaken it or if it runs with your line. The messages you get as you battle your fish are a clue as to how you're doing. I'll run down them and try to add my thoughts to each. One thing to note: you don't have an unlimited amount of time to reel the fish in. There is a gauge that appears under the meter that represents the amount of stamina you have left to reel the fish in. Each jig will cost you some stamina. You need to land the fish before you run out of stamina.
Nothing bites
You get this when there are no bites. This really has nothing to do with what you've done, although there is speculation that changing depth can help if you see it several times in a row.
You've hooked something but cannot reel it in.
This is the default message, and is what you will most often see once you hook a fish. There really isn't a lot you can do with this, other than to try one way or the other.
The fish is taking line.
This you will get after the initial hooking, when you are trying to figure out which way to go from your hook point to get the fish. This message means you picked the wrong way.
The fish is taking a great deal of line.
You guessed really, really wrong [1] This might happen if your initial guess is on the edge of the cone that you had to hit to hook the fish (I think anyway). At any rate, you need to move back to the other side of your hook point.
You take in some line.
You're getting warmer. You picked the right direction, now try to go further. I try to increment by the width of the dot each time unless I pick the wrong way to begin with. It usually isn't terribly far from the hook point, but that isn't always the case. You need to judge how much based upon how much stamina you have left on the guage.
You take in a great deal of line.
You're getting closer. Much better, but still a ways off, and I would recommend decreasing the distance between the next jig if you have the stamina for it.
The fish has tired, but you still cannot reel it in.
You're there. For some reason, you need one more jig to get the fish in. Hit the exact same spot you did the last time, otherwise you'll give up line to the fish and will probably lose it if you are out of stamina.
You lost what felt like a Tiger Cod.
You got really close but ran out of stamina at the end. Since you got this close, they let you know what you almost caught. This message makes me think certain fish have a pattern to catch them, or at least there is something in how you catch them that can give away what the fish is.
The fish got away
This is when you don't get close enough to tell what kind of fish it is, and you lose your catch. You still get experience points for it though.
Abilities, description, and rank.
Grade x school of fish: x yalms to the north / x yalms to the east / x yalms to the south / x yalms to the west.
This is usually the standard message you get. The grade corresponds to the level of Dowse or Gulleye that you use.
You sense a grade x school of fish x yalms to the southwest at a higher elevation.
This message you get if you are lower or higher than the fish detected.
Your instinct tells you there is a school of fish here.
This message you get if you are pretty much on top of the school of fish and all you should have to do here is cast your line.
You prepare to cast into the fishable waters. (Grade x)
You get this message when trying to fish into a school of fish you have detected. Schools of fish are limited in resource. You don't have to fish at them, but usually you have good results when fishing there.
This location can be gathered from x more times.
This is the message you get when you are fishing in a school of fish. After each fish caught (or lost) it tells you how many times you can fish before the school disperses. You lose a chance even if you miss the fish.
Veteran Trade takes effect.
You are probably wondering why this is all worth it. Well you can get things! Fish! Shards! TONS of experience points! The shards you pull up can be any element. I had amassed a large number of shards by the time the beta had ended. Fish come in normal varieties as well as +1, +2, and +3 editions. You can pull up both fish and shards at the same time. In fact, you will always catch fish; sometimes you get shards as well.
More to come
The amount of stamina removed from the gauge when jigging a hooked fish may or may not indicate if your jig was close to the fish. I speculate that the messages are one form of indication, but that the "jig result" might also be an indicator, especially at higher levels.
A BIG thank you to Mikhalia for spell/grammar checking for me.
This page last modified 2010-10-08 10:42:51.