http://na.finalfantasyxiv.com/blog/post/233
Quote:
Live Alive
February 24, 2013
This is Pinurabi in London, signing off. See you all again on the other side!
Not if I have something to say about? Oh hai! Fernehalwes here, back in the driver?s seat after a brief hiatus. Hm? What happened to Pinurabi, you ask? Oh, I assure you he?s just FINE. No need to WORRY about HIM. I?m sure he?ll show up somewhere...
Now where was I? Ah, yes. The Producer Letter Live. As many of you have probably already noticed, over the past few months, Yoshi-P has earned himself the dubious title of ?the hardest-working man in gamemaking.? And now, not one day removed from his whirlwind tour around the globe, his nose is already back to the grindstone, preaching to the masses the word of the P.
Here are a couple shots we snapped right before we went on the air. Judging by the boyish grins on Yoshi-P?s, Foxclon?s, and company top-dog Mr. Wada?s faces, I can only assume they?re carefully reviewing the recently implemented breast physics.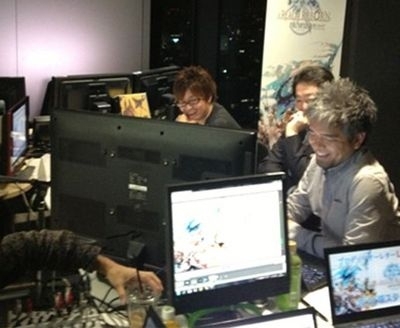 And...OH MY GOD WHAT IS THAT HORRIBLE THING IN THE BOTTOM LEFT OF THE PICTURE!? IS THAT...IS THAT...A DISEMBODIED HAND REACHING FOR AN ICY COLD BEVERAGE!? CALL AN EXORCIST! WE MUST RID THE ROOM OF THIS UNHOLY PRESENCE BEF? Oh... I?ve just been informed that is our sound director, Masayoshi Soken. False alarm, then. Carry on.
Here?s a shot from the room next door where Mocchi and Triary are updating their Facebook profiles and ordering affordable, yet high-quality vitamin supplements from Canada...I mean, screening questions that have arrived for Yoshi-P via Twitter, before sending them over to Foxclon. Yeah. That?s what I meant.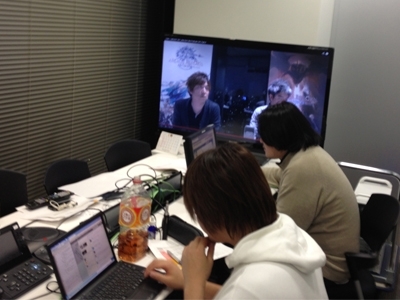 And here?s a shot of the president who, it is rumored, rode the company heli from his office on the 20th floor down to the 18th to attend the event. Top button open, necktie strewn to the floor? You can tell the man is SERIOUS.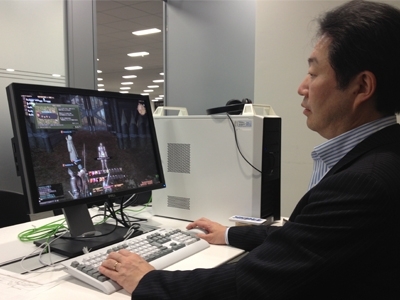 What?s this? Enough with the suits, now give me the scoops? Well, Yoshi-P donned his Ebenezer-Scrooge-immediately-after-chatting-with-the-ghost-of-Christmas-future cap and was tossing around confidential artwork and concept designs like they were stale bricks of figgy pudding...and really left me with nothing to leak. But for those of you who missed it, I was able to take a quick shot of the minion sketches so you guys could get a closer look.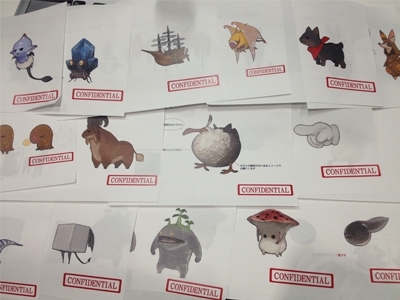 I am soooooo getting myself one of those ahrimans. Or is it ahrimen...?
Fernehalwes