http://na.finalfantasyxiv.com/blog/post/471
Quote:
Over-Exposition
July 08, 2013
Hello all!
Fernehalwes back to bring you all one last behind-the-scenes recap of the excitement that transpired at this year's Japan Expo.
(...sits back and starts French Funk Federation playlist...)
Out of the ten media interviews scheduled for the day, half were on camera. Good thing the big P is so photogenic! And hey, there's
the chocobo head from yesterday
!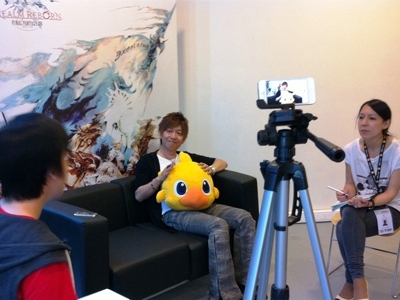 Why, there's the chocobo head again...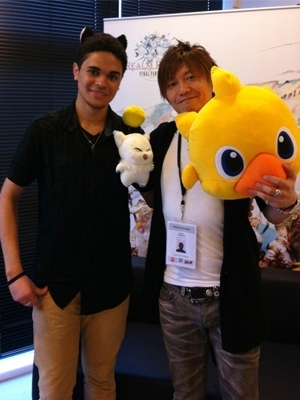 Wait, did they make him hold that thing the WHOLE day!!!??? Alas, poor chocobo! I knew him, Yoshida: a fowl of infinite jest (but no body).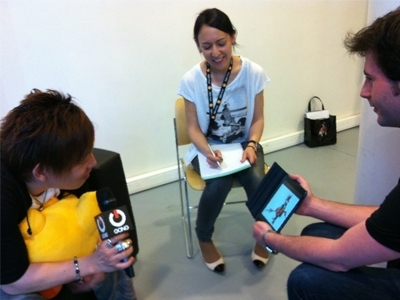 Luckily, the day's activities weren't all relegated to the confines of the media area. Square Enix had a large presence on the expo floor, and Gaius was there to greet the flocks of frenzied fans with this message: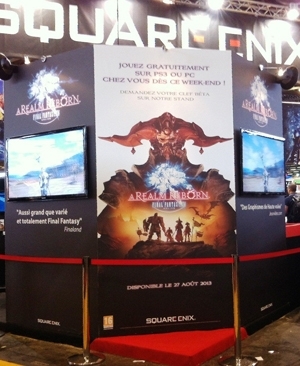 Going off the French I took WAY back in Junior High, this can be roughly translated (from top to bottom) as:
Pay gratuities on PlayStation 3 or PC at your house this weekend.
Demand your bass clef on our stand.
The 27th of August, 2013 is disposable.
I SUPPOSE those event-goers without MY understanding of the intricacies of the French lexicon COULD have asked one of the Square Enix staff members working the floor what the sign meant...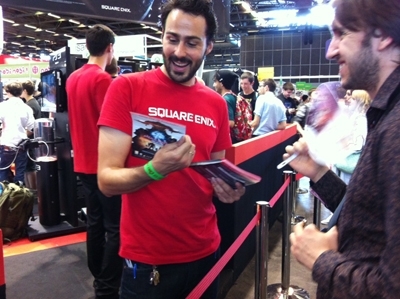 (and I SUPPOSE they would have been told that it meant that you could be playing FFXIV: ARR this weekend on your PC or PS3 after getting a beta registration code from the SQEX booth)
Finally, what would a game show be without cosplay!? First, we had a Miqo'te sporting a corpse-blue dyed ARR t-shirt (INT +20, PIE -100), a Skirt of Eternal Stripes (generates a ginger cookie once every hour), and a pair of Aetherial Steel-toed Toadskin Thighboots of Kicking **** (Binding, Untradable):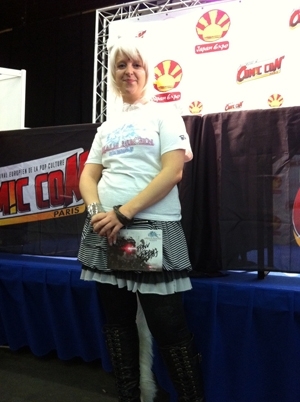 Then we had... WHOA!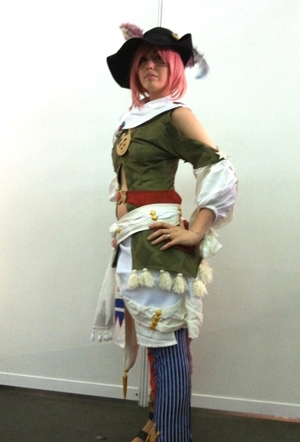 And then there was...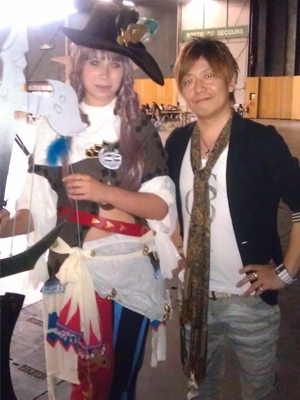 Warning: SENSORY OVERLOAD IMMINENT.
According to those attending Yoshida-san at the expo, after seeing this final cosplayer, the producer/director's head exploded, and he had to be rushed back to his hotel room to recuperate. Though, another report claims the true reason for the rush back to the hotel was that Yoshida-san was feeling a tad under the weather due to his grueling schedule finally catching up with him. Either way, here's to a speedy recovery! Get well soon, Yoshi-P!!!
Fernehalwes
Actually, before I wrap things up, I just wanted to throw a big thank you out to my contact at Square Enix Europe for the veritable cornucopia of photos and info. I owe somebody a tall, frosty mug of malt beverage and a bucket of teriyaki wings. You know who you are!