A little surprised this wasn't already posted! I'm very excited about this.
Source:
http://forum.square-enix.com/ARR-Test/threads/54239-UI-Scale?p=1014947&viewfull=1#post1014947
Quote:
Greetings,
Below is an update from Hiroshi Minagawa in regards to window and font sizes.
Quote:
Quote Originally Posted by Hiroshi_Minagawa
In phase 4 we will be introducing a feature that will allow you to individually toggle the sizes of each kind of window including the HUD.
To start out the below three sizes will be possible:
80% (smaller)
100% (standard)
120% (larger)
Below are a couple of things to note about this as well:
You can indicate different sizes for each window.
The display size is saved on a window to window basis and will be maintained even if you re-open a window.
The size settings will be saved even when logging in again.
Display process-wise it is possible to address this for 5% or even 300% size changes, so after launch we will be expanding the customizability range to be 50%-200% and making it possible to make even more minute changes.
Below is an image illustrating the three different sizes: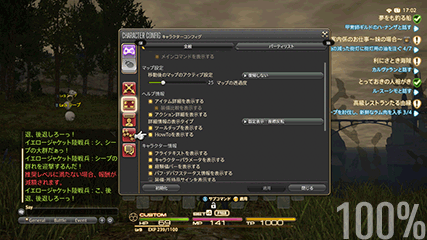 *These size changes will also apply to buffs/debuffs since they are part of the HUD.
*These changes can also be made on the PS3 version.
Edit: I'm a sucker for cleanliness. ^_~
Edited, Jul 17th 2013 4:19am by Ryklin