Been reading the beta forum thread and here's the gist of it from what I could tell...
If you've been spamming the button... expect to get a LOT of emails for the code... this is probably why the site is spitting out error messages...
Stop spamming it's making it worse!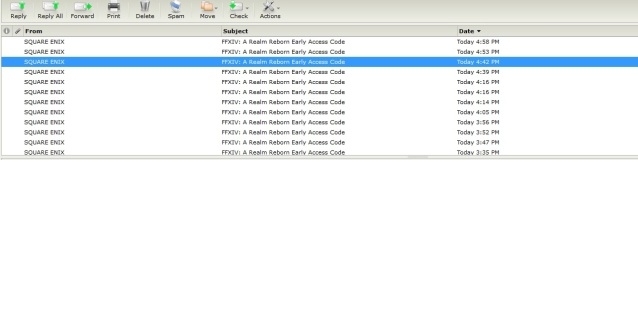 And here's a reply from SE customer service to a EU customer who posted it in the thread:
Quote:
Dear customer,

Thank you for contacting our customer service.

We are very sorry that you are having issues redeeming your pre-order code on the website.

Please make sure that you are attempting to redeem it on the website (http://preorder.eu. finalfantasyxiv.com/) and that your code is an 18-digit code.

The site is currently under extremely heavy traffic and we suggest that you try redeeming your code again later.

Please make sure that you are logged out of any other Square Enix Members website before logging on http://preorder.eu.finalfantasyxiv.com/.

If you are still unsuccessful by tomorrow, please contact us again with the following details: - Your pre-order code - The website you are attempting to redeem your code - The error message displayed when attempting to redeem the code We apologise for the inconvenience caused.

Kind regards,

The Square Enix Support Centre Team.

Couple more updates from Reddit:
:
LINK
Quote:
UPDATE -
https://twitter.com/FF_XIV_EN
The #FFXIV Pre-Order Code Redemption website is currently experiencing a high volume of traffic which may result in errors being displayed. If you receive an error when attempting to redeem your code, we ask that you please wait and try again later. Rest assured that our teams are working on the issue and once we have further information, we'll be sure to update you all!
UPDATE2 -
yondaimee604
IF YOU GET the ERROR: 3 message, KEEP TRYING you WILL get the code eventually (it took me 4 tries only). After you get the 12 digit code you WILL get the region error, this is NOT because of a mistake YOU did, this is because they accidentally sent EVERYBODY to the JPN site to redeem the code and not the NA site. As soon as they link the proper NA site, everything should and WILL work.
Quote:
UPDATE3
North American site is bugged and is issuing EU codes (beginning with RAAE). Still no news or resolution from SE. Hang tight.
UPDATE4 -
https://twitter.com/FF_XIV_EN
We sincerely apologize, but the pre-order redemption site is experiencing very high traffic which we are currently working to resolve. We are adding additional bandwidth and server capacity to ensure that all customers will be able to redeem their pre-order codes as soon as possible. Early Access starts on August 24th at 2am PDT, and Square Enix is working hard to ensure that all #FFXIV pre-order customers will be able to download and play the game.
UPDATE5 - PackOfHighly
Thank you for submitting the information. We are currently aware of this issue and we are investigating the cause. We are going to escalate this matter to be looked into and we ask for your patience regarding this as look for a resolution. Unfortunately, I don't have an immediate resolution but we are looking into the matter. Please keep attempting to use the code on the account while we look into the issue at hand. Keep checking your e-mail for any updates and check the twitter page for FINAL FANTASY XIV for any announcements.
UPDATE6 -
https://twitter.com/FF_XIV_EN
We're aware that some NA users are receiving EU-region codes and are working to address that as well. We'll be sure to keep you updated.
UPDATE7 -
https://twitter.com/FF_XIV_EN
We have temporarily suspended the ability to redeem codes on the pre-order site while we continue to investigate the ongoing issues. As soon as we have more information to share, we'll be sure to provide you with an update.
EDIT:
New from Lodestone
Quote:
Status
2013-08-20 23:30 From : FINAL FANTASY XIV
North American/European Pre-Order Redemption Website Issue Notification (Aug. 20)
Currently, listed below are the issues with the North American/European Pre-Order Redemption Website.

-Unable to access the site regularly
-Cases where Early Access Code wasn't sending out even when registering the Special Item Code
-Early Access Code sent wasn't the correct code

We are temporarily suspending the Early Access Code system in order to proceed with the investigation.

We will notify everyone when there is progress on the situation.

We apologize for any inconvenience this may cause.

Edited, Aug 21st 2013 9:15am by Hairspray