PS3 version UI elements and Menus are scalable!
Go into the Keybind menu and look for the one that is
"Change Window Size"
It is the very last option under
Keybinds > System
tab. Keybind that to something easy. I use Q.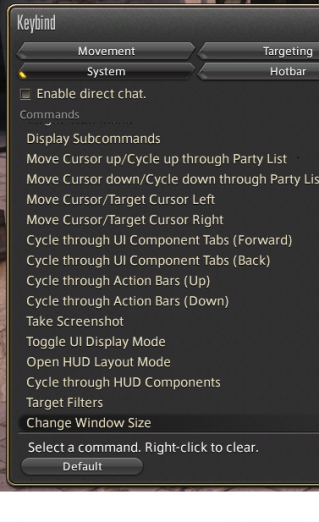 Now open up the HUD customization screen, active the element you want smaller, and press your keybind.
It toggles through three sizes:
medium > large > small
. With medium being the default. You can scale all of the hUD elements such as:
- Mini-map
- Duty List
- HP Bar / Exp Bar
- Action / Item Help
- The Cross-bar
You can also scale things like the
AH window
and other things that only pop up temporaily, but are not on the HUD customization window. It is very helpful to shrink your
Character, Armory Chest and Inventory screens
so more can fit on the screen at once.
Just select them and hit your "Change Window Size" keybind. It works on all Menu windows such as:
- Crafting Log
- Crafting progress display screen
- Duty Finder
- Abilities and Traits
- Hunting Logs
- System Menu
- Character Setting Menu
- System Setting Menu.
- Keybind Menu
Pretty much the only element it does not work on is the chat box, as it is not a HUD element or a Menu.
I hope this helps It make PS3 life a ton easier.