Have you ever wondered just exactly what the runes on the target reticule say? It was certainly one of my first questions!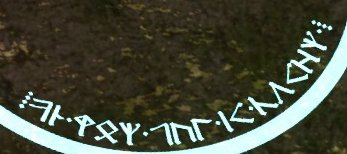 You see, when I was about 9 my uncle David came to visit one summer and, each night, he read The Hobbit to me. He almost finished it before he left, but he left me his copy. I finished it soon after and for my next birthday he gave me the original 3 paperbacks from Ballentine Books of The Lord of the Rings. These were the ones that had the covers that were cut from a single painting (I had the 6' poster of it on my wall for many years).
It took me almost 2 years to read LotR the first time. All of 5th grade for the Fellowship, 2 months in the summer for The Two Towers (I did not play outside much that summer) and about the first semester of 6th grade to finish Return of the King.
Soon after my uncle and I began corresponding in the languages of Middle-earth. We used the Tengwar at first, then graduated to Angerthan.
Well, this morning I opened up my hard-bound Houghton Mifflin edition of RotK to the Angerthan table and found the 6x8 note cards with my original notes on the translation for Angerthas Moria (the version used by the dwarves of Moria) and the slightly more eclectic Mode of Erebor.
Using Angerthas Moria I tackled the translation. My first pass thru did not make much sense to me, as whoever did this at Turbine chose to convert the message phonetically first, then encode it in the runes. The first 2 words were gibberish to me, rendering as "ghw e" and "hw u n" and I stared at it for quite some time, checking and rechecking my notes. Of particular concern was whether the first rune was #26 (w) or #11 (dh). I finally decided it had to be #11 and, by saying the phonemes quickly over and over I finally realized the message.
"dh e(eh) hw u nj--n th a t i(y) s ch o s--' e n"
The One That Is Chosen
Edited, Jan 5th 2009 8:22am by Bludwyng
Edited, May 9th 2014 1:12am by Calthine Unlock Thread