We test out the latest in a line of MMO-focused gaming mice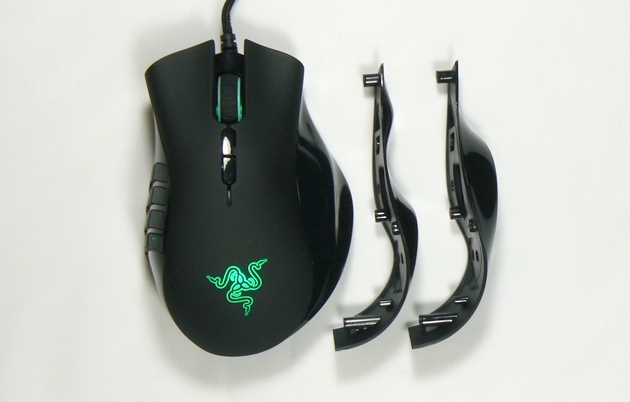 I remember when the Razer Naga first came out. After playing World of Warcraft for several years, it felt like someone had actually built the mouse that I wanted. Finally, all of those spells and abilities would be under my full control. My days of being an icon clicker were finally over.
Since then, the Naga Molten has been my constant companion. We've fought through countless battles together on a dozen different worlds. With Razer updating the Naga by introducing a 2012 edition, I was eager to find out what boons this newcomer would bring. While the newer model does have a number of subtle differences, there are significant similarities with the older versions.
Evolution of a Snake
Unboxing the Naga 2012 revealed the first of those differences – a pair of replaceable grips for the right hand side of the mouse. One provides a 'classic' grip in the same style as the original Naga, while the other is a much slimmer insert for those who favour a claw grip. The new default is a wider palm grip, which was already fitted to the mouse.
The grip is the second thing I noticed about the Naga 2012 – the newer mouse has been topped with a coarser finish that helps to grab the fingertips. It's this change, in tandem with the alternative inserts, that helps overcome some of the complaints from claw grip fans, but the included domed 'training' stickers are necessary to help finding the right thumb button by feel alone. By comparison, palm grippers should have no problem in adapting to any mouse in the Naga range.
Those twelve thumb buttons are on a slight curve that makes them easy to reach but tough to trigger accidentally. Even so, it can be a bit of a challenge to use those toward the back of the Naga, as they require thumb acrobatics to hit with the inside knuckle. Thankfully, the forward/back buttons have been moved from their old position next to the left mouse button and brought in-line with the scroll wheel. Both the left and right buttons have a gentle dip to help locate fingers, with enough resistance to prevent accidental triggering.
At 4.6" long and 2.8" wide, this is a mouse that filled even my large hands. That's not to say it's uncomfortable – the gentle rise to 1.8" at peak meant that my wrist wasn't bent out of shape. Those with smaller hands may want to try the mouse first, especially if they're expecting to reach around all of those thumb buttons. Being 4.8 ounces it's slightly on the heavy side, but the ultra-slick feet make it very easy to move around.
The final change is in the backlight – the original Naga sported a blue glow, while the Naga Molten moved over to a red smolder. With the Naga 2012, the classic Razer green is back in fashion, with both the logo and scroll wheel/thumb grid backlights configurable in the Synapse control software.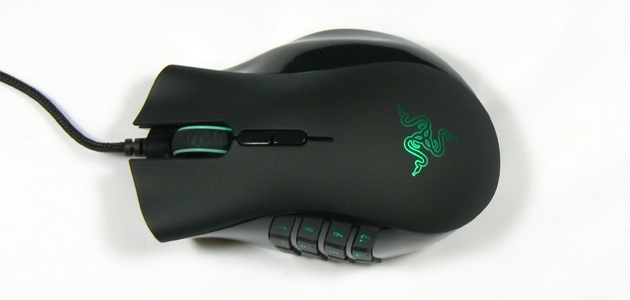 Control Panel
Synapse is Razer's one-stop-shop for configuring and customizing almost all Razer devices. For the Naga 2012, this includes adjusting the laser's dpi sensitivity from 100 to 5600 dpi, in 100dpi increments. The polling rate can also be changed between 125, 500 and 1000Hz. It's possible to set up any of the 17 buttons to change that sensitivity in-game, either by cycling through up to 5 sensitivity stages, or as a temporary clutch while pressed.
Besides supporting macro recording and playback, the Naga 2012 also enables up to eight different keymaps to be stored. These keymaps can provide alternative bindings for each mouse button, plus it's possible to bind buttons to switch to a specific keymap. If your particular MMO demands different binds for different styles of play, the Synapse software will support the flexibility you need.
Profile storage rounds out the set of Synapse-enabled features, with profiles either triggered from a mouse button or when a particular game is launched. That said, it's not necessary to download Synapse in order to start using the mouse in anger; a switch underneath the Naga 2012 shows the default keys those thumb buttons are bound to. By switching it to 'NUM' and binding hotkeyed abilities to numeric keypad digits, the Naga 2012 can be put to work immediately – perfect when guesting on a friend's gaming rig.
Going In-Game
As an MMO gaming mouse, the Naga 2012 is as brilliant to use as the original Naga. In games like World of Warcraft or Rift: Storm Legion, being able to bind useful out-of-rotation abilities, such as short duration buffs or consumables, is a huge boon. It also serves to make combat – particularly raiding – more instinctive; you're tapping a button instead of hunting for an icon.
In MMOs with a reduced action set, such as Guild Wars 2 and The Secret World, my use of those thumb buttons has evolved. Instead of mapping thumb buttons to in-game abilities, I'd use them to hide the user interface and capture screenshots. One might start and stop video capture, while another might be used for push-to-talk.
It's in high-action shooter MMOs where the Naga 2012 starts to fall down, as did the previous generations. For games like Planetside 2, FireFall and Defiance, more responsive mice provide a real edge. If these are your style of game, an FPS mouse like the recently reviewed Razer Taipan might be more suitable.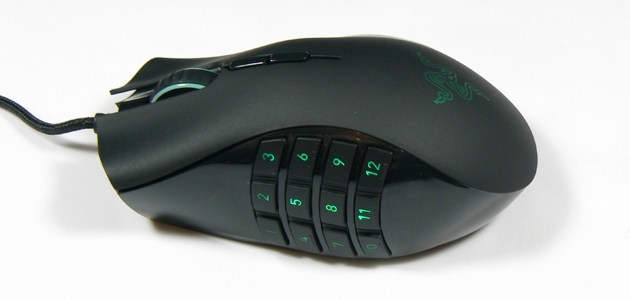 Challengers for Razer's MMO crown have also emerged, all seeking dominance on the desks of online gamers. SteelSeries has released a wireless MMO mouse with an interestingly different button layout and more sensitive laser. Meanwhile, the Logitech G600 looks very similar to the Razer Naga, but offers a multi-colored backlight that can be linked to individual profiles. Razer's own Naga Hex is also crowding the spotlight, with the six mechanical buttons being ideal for limited action set MMOs.
That ever-evolving Synapse software also makes the 2012 edition an unlikely upgrade for existing Naga users, as many of the newer features have now been made available via a simple software update. Razer should be applauded for this, as it means that owners of older mice are still reaping benefits from the firm's continued development.
More importantly, the MMO genre is evolving. There's a significant drift away from providing huge numbers of on-screen abilities, instead encouraging players to focus on those they want to have at their fingertips. The mass of hotkeys we saw in WoW, Rift and SWTOR are likely to become relics of an older age in MMO gaming. With that in mind, demand for mega-button mice like the Razer Naga drops dramatically.
The Razer Naga 2012 is definitely a contender for the space beside your keyboard, but it's no longer the default choice for MMO gamers. Although the tweaked button layout and grip changes addressed problems with original Naga, Razer hasn't done enough to propel the 2012 edition clear of rivals. And while the Naga 2012 is a sound investment for anyone playing some of the more established MMOs, those experimenting with newer titles might want to consider alternatives.
If anything, the Razer Naga 2012 Edition is a milepost for the current MMO genre. With the MMO landscape becoming even more diverse through an influx of free-to-play and subscription-free titles, it's likely that the next iteration will be a very different beast.
The Razer Naga 2012 Edition is available direct, priced at $79.99, £69.99 or €79.99. Other retailers may vary.
Gareth "Gazimoff" Harmer, Senior Contributing Editor