In this article of The Scrying Pool, I look at how secondary classes could exist in GW2.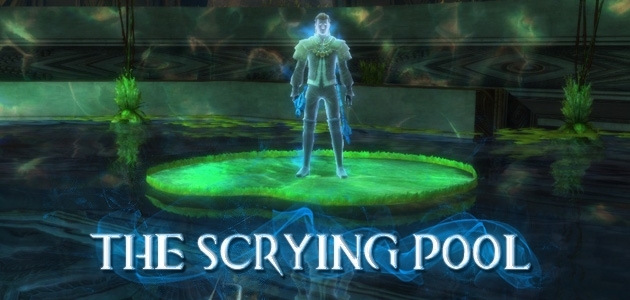 In each article of The Scrying Pool, I look at what is and what could be. After taking a look at what is present in Guild Wars 2 now, be that lore or game mechanics, I then ask What If? What if this happened in the lore or this feature was added in a future patch.
In The Scrying Pool: No Expansion!? I talked about a few things that would be easier to implement if ArenaNet released major expansion content through the Living World rather than separating the community with a boxed sale release. One of the topics I talked about was expanding the utility skill system with the addition of the 2.0 skills.
In that article I said that the utility skills should be expanded vertically, by adding a new set of tiers that would unlock for players at level 50. This would give more sense to the vertical progression while also separating the old skill from the new for newer players to any class or the game as a whole. In this article I again wanted to expand the utility skills vertically, although in a unique and fun way for players.
In the original Guild Wars players were able to select a secondary profession. While this didn't give access to all of the trait lines to buff skills, it did allow players access to all of the skills available to that secondary profession. Outside of not gaining access to the primary specific trait line, the only restriction to the system was that players could have only one other profession selected as their secondary at any moment. While the secondary profession active could be changed for free in any town, it did limit the crazy combinations that would ensue without the limit.
While the combinations were limited, this open secondary profession system did allow for skills to combine with other skills in a multitude of different ways when all of the potential primary and secondary profession combinations were considered. This would easily turn into a nightmare for a balance team to work with, especially with the magnitude of skills that the original Guild Wars had to offer. A skill could be perfectly balanced within the constraints of the primary class, but be completely over powered when combined with some random skill that another class offered.
The issue of balancing skills across multiple professions is a big part of why the dual profession system was dropped in Guild Wars 2. The single profession system also allowed for each class to shine on its own, something that was pretty important with weapons being usable with multiple classes though with different styles and skills.
While I really liked the secondary professions in GW1, I am glad that they didn't bring them back for GW2. It was really fun to mix and match skills from other classes, but it also diminished any one class. For example I played a ranger as my main character in GW1, but I almost never used ranger skills to fill the majority of my bar.
A couple months ago, the French Guild Wars 2 fansite Esprits d'Orr asked Angel Leigh McCoy, narrative designer at ArenaNet, a few questions about the lore within the Guild Wars universe. The interview was very interesting and well worth a read if you haven't done so already.
There was one specific question from the interview that caught my eye. Esprits d'Orr asked about classes being able to cast only one specific type of magic. The question says that from a gameplay perspective it doesn't work, but for roleplaying would it be possible for classes to have a wider magical knowledge or potential and therefore be able to cast more types of magic. Angel answered with:
"The reality is that only the most powerful have the time and energy to do this...usually, an individual doesn't want to turn her back on everything she's already learned to start a new magical discipline. She'd much rather continue advancing her knowledge in the discipline she's invested decades in. Some, however, may dabble and experiment with specific spells. If a master elementalist can find a mesmer to teach her to produce an illusion, then she may explore ways to combine them."
There are three things I pull from this quote: most powerful, specific spells and need to find another master to teach them the new skills. What could this correlate to from a gameplay perspective? A dual profession system involving specific skills that is unlocked by being level 80 (max level) and having another level 80 of the desired secondary profession on the same account.